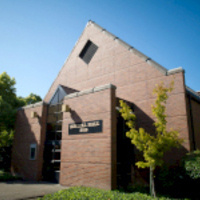 Recital Hall
A performance hall used for intimate concerts, lectures and performances.
3515 Pacific Circle, Stockton, CA 95211
This recital is part of the Conservatory of Music's Resident Artist Series. The Conservatory's faculty Ann Miller, violin, Igor Veligan, viola, and Vicky...

Resident artist Igor Veligan, violin will perform with his musical guest Natsuki Fukasawa, piano. Igor Veligan, lecturer in violin, viola, and Chamber Music...
This is a recital in the Guest Artist Series at the Conservatory of Music. World renown marimbist, Naoko Takada has performed solo recitals in Carnegie Hall,...
At University of the Pacific Conservatory of Music, chamber music is a strong and vital component of the performance studies program giving students the...
Featuring Pacific Conservatory faculty Ann Miller, violin; Vicky Wang, cello; and Sonia Leong, piano, with their guests Myriam Cottin-Rack, violin, and Igor...
Recent Events

Recital Hall posted a photo
10/17/2014

mballot left a positive review
9/18/2014
Two extremely talented and personable young ladies gave a great performance, covering music from the 17-th to the 20-th centuries. A very enjoyable evening!!
Photo by Randall Gee

Recital Hall posted a photo
1/20/2011